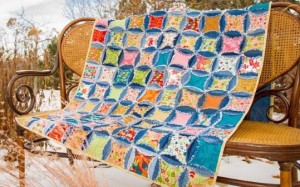 March 2, 2017
Sadly, the etiquette of sending thank you letters and cards has almost become an outdated practice. We often go through life accepting gifts small and large, speaking a quick "thank you" here, or texting a short "thank you" there. In this beautiful ministry, people are always bringing "gifts" to our doors through the act of donations. Mostly, these gifts are beautiful pieces of their lives that they have either outgrown or left behind as they have moved into a new season or perhaps passed away. We try hard to express our heartfelt thanks, but always wish we could do more to show our appreciation. Alas, time is ever moving forward and before we know it, another week has passed and there are new things to be thankful for.
On the other hand, it is also our great pleasure to be the hands and feet of God as He allows us to give out what He so generously gives to us. We spend our days being able to love on people all day long, finding new opportunities to share this great ministry with our community partners who have the same heart to reach the least, the lost and the forgotten.
A couple of weeks ago, a lady (Billie) and her daughter (Loucendy) walked into the store. They were looking for bed sheets, specifically to use for the quilts they were making. They asked the price and we discussed the different options. Finally, I asked why they were making the quilts. They explained that Billie, the mother, made small blankets for the veterans who receive treatment from the Veteran's Hospital. This way they have warm covers while they are in hospital, and then they get to take them home. Wow! What a beautiful detail to consider!
Of course, in true Loyal To One fashion, we told them to get all they needed and to come back as often as they needed to help make this happen. There was no charge, but the blessings were already at our doors! The two ladies were very grateful and happily surprised. We are always excited to be part of this amazing network of loving people who care for our community.
So, as they were leaving, they asked for our card saying they would let the VA know that we had donated to this very special cause. We said there was no need to, we were just happy to be able to help.
Then, this past Monday, we received a thank you, in letter form. It is from the Veterans Affairs Medical Center in Boise. It is a wonderful letter that took thought and time to write, and it touched our hearts. Because we understand the value of time, we so appreciated the kind acknowledgment.
Ultimately, the thank you goes to God, our Provider; the One Who somehow cares for and touches the lives of so many through one simple act of kindness.
Luke 6:38 "Give, and it will be given to you. A good measure, pressed down, shaken together and running over, will be poured into your lap. For with the measure you use, it will be measured to you."

November 7, 2016
We have learned a lot about community and the joy of loving on the least, the lost and the forgotten. We have enjoyed being the hands that God has allowed to give to those less fortunate, all the many blessings He brings into our Community Center. It is always with a full heart that we shut the doors at the end of each day, truly blessed to help those who come into our world with a need.
The real lesson, however, is not the giving and how it makes us feel. The real lesson is the fruit that those seeds that may seem small to us, but are big to those we serve, produces. There are two such examples that happened just last week. One, I have pictures of, the other I do not. The impact on all of us, however is still the same…FRUIT the size of the Promised Land.
The First One…Last year, a little later in the season, our dear friend Kimmy came across a woman who needed help. It seems that she was needing to get back home to Oregon before the holidays and didn't quite have enough money to make the trip. Kimmy is always at the ready to help any and all who are in need, so as usual, God placed the perfect opportunity before her.
This woman she happened upon, (her name is Charlene) had an unusual talent. She was a window painter. She told Kimmy that she was very good at it and if she knew of anyone who needed their windows painted for the holidays, she would do it to earn some much needed cash to make her trip.
Knowing that window painting would be a luxury this ministry can't afford, and knowing how special this season is to many of us, Kimmy decided to surprise the staff and pay this traveler to paint our store windows!!! And what a surprise it was! Suddenly, our little store was transformed. We were all happy and blessed.
The end. But wait… there is more…the fruit…
Now, we find ourselves in the month of November, almost a year later. Once windows have been painted for the holidays, there really is no going back. We beseeched Kimmy and asked if there was any chance that Charlene could paint our windows again or if she was even in town. As a matter of fact! Of course, Kimmy has kept in touch with her – that's the kind of person she is. So not only does Kimmy call the lady, she happens to be in town again doing her window painting jobs and would love to come back and do our windows.
…And once again, Kimmy blesses our store and our ministry with the gift of paying for our windows to be painted…
What began as a kindness to a stranger, has grown into a relationship that continues to bless our ministry!
Thank you Kimmy! And thank you Charlene! We are now ready for our open house and the first store on the block to be decorated!

The second story is a little different, but the results are the same – FRUIT
The first summer the store was opened, there were many new faces. One special face was that of a woman whose family lived in another country. Often, she would come in with a beautiful smile but few words, as her English was limited.
As time went by, one of the volunteers began to notice that she was switching the tags on the higher priced items with lower priced tags before bringing them to the register. The volunteer brought this sad news to the attention of Pastor Joseph. His heart was sad, but he had to deal with this delicate situation. He told the volunteer not to say anything, but to let him know the next time she came in.
On her next visit, Pastor Joseph approached our shopper and caught her switching the tags. He brought her into his office and asked her why she was doing this. She explained that she couldn't afford these things and she was sending them back to her family who desperately needed them. She was embarrassed and scared and Pastor Joseph felt so bad for her. He explained to her gently that she didn't need to switch the tags, he would be glad to give her anything she needed for her family, if only she would ask. Tearfully, she accepted his kindness and promised she wouldn't do it any more. They agreed that anytime she needed something she couldn't afford, she would bring it to him and he would give it to her. She tested his promise as time went by and he was faithful to help her out whenever she needed something.
That was nearly four years ago. Since that time, she has been a regular in our store. She buys everything she needs now and often shares what's going on in her family, when she's making the yearly trip back to see them, and even some of her beautiful handmade scarves. Then end…right? No…not yet….
A couple of days ago, she pulled up behind the store with her car full of the most beautiful loveseat. She presented this gift, in wonderful condition and perfectly cleaned to this little store as HER donation!!! She was so proud to give back! In fact, it was so nice, it sold within hours of coming in…
As she walked out of the door saying goodbye with her head held high, she let us know she was headed back to her country for the holidays. We hugged and in gratitude to God realized that this was one more beautiful relationship born from seeds of kindness and love.
Glory to God for all the beauty that surrounds us daily in the hearts of those we serve!